Thank you for supporting our shows this season.
We have enjoyed having you for our audience.
We are planning for a fun filled 2013-14 season. So far our plan is to have

"Sammy and the Sandbox" by Zambini Brothers in Oct. or Nov,
"S.C.U.B.A. a blacklight puppet show by SpyGlass Theatre in Feb. or March
and "The Tales of Peter Rabbit" by Thistle Theatre in April or May
The dates will be posted when they are available.
The Aurora Valentinetti Puppet Museum & Evergreen Children's Theatre brings live performances by celebrated puppet artists:

2012-2013 Season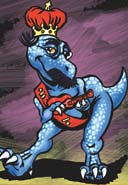 November 10, 2012 2:00 pm
"The King of Dinosauria"


Who will succeed the King and control the coveted Choconutty Cocolates? A story inspired by the comedy of the Marx Brothers told with many of your favorite dinosaurs!
March 2, 2013 2:00 pm
"The Secret Life of Bugs"
This is a black light production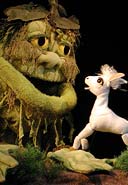 May 4, 2013 2:00 pm
"The Three Billy Goats Gruff"
Thank you
for your continuing support.
Corporate & Individual Sponsorships 2012-13
Dentistry for Children
Richard A. Eskridge
Kitsap Association for the Education of Young Children
Kitsap Credit Union

Kitsap SUN